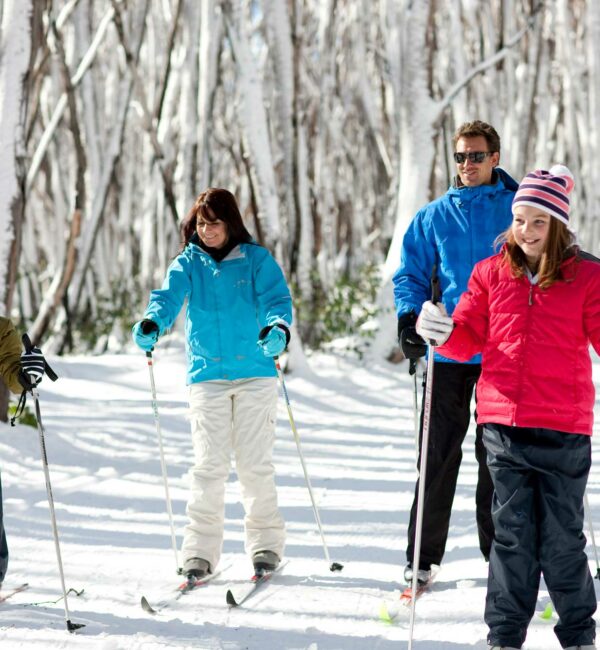 Make sure you've got everything you need for your big day
By packing a few little extras and taking a look at places you can stop along the way, you can make your big day even better.
COVID-19 rules are currently in place at Lake Mountain
Due to various worldly events, all visitors must check-in and provide evidence of being fully vaccinated when entering the Lake Mountain Alpine Resort Bistro or Retail space, along with following all other relevant government guidelines.
To be notified of changes to the requirements keep an eye on our Facebook and Instagram for updates.
Driving from Melbourne to Marysville takes you through the beautiful Yarra Valley, home to some of Victoria's best wineries and most delicious restaurants. Perfect for a quick breakfast on the way up, or a meal on the way home. There are also plenty of tasty options for a meal once you arrive in Marysville, with the added benefit that it is only a short drive up the mountain to reach the resort.


Lake Mountain Alpine Resort,

1071 Lake Mountain Rd,

Marysville, Victoria
At certain times of the year when snow conditions make driving more difficult, two-wheel drive vehicles are required to carry wheel chains. These can be rented in Marysville, Narbethong and the Black Spur and must be fitted when directed.
No pets of any kind are permitted at Lake Mountain Alpine Resort as it is in a National Park.
Last updated on May 19 2022
For last minute, urgent information – try our instagram or facebook.
FAQs
Answers to all your questions about the mountain.
Can I bring my dog to Lake Mountain?
No pets of any kind are permitted at Lake Mountain Alpine Resort as it is in a National Park.
Do I have to prebook anything?
Resort Entry tickets need to be pre-purchased prior to your arrival.  If you do not have a ticket, you will not be permitted to enter the resort.
Are there chairlifts at Lake Mountain?
No, there are no chairlifts. Lake Mountain is a Cross Country Ski Resort only.
I don't have any snow gear, can I hire some?
Yes! Our on-mountain equipment and clothing hire outlet stocks a large range of sizes in both PVC and padded outerwear. As well as snow boots to keep your feet nice and dry. The only things you CANNOT HIRE are GLOVES and BEANIES, this is due to hygiene regulations. Don't stress though, we have a range of kids through to adults gloves and beanies for sale in our retail outlet up on the mountain.
With gloves starting around $20, you'll be set to tackle the wintery conditions.
Lake – Mountain – Alpine – Resort – Where's the Lake?
Funnily enough, there is no Lake at Lake Mountain, the mountain was named after the surveyor George Lake. Unfortunate for those planning on bringing their boat!
What you'll need for the day
Ensure you have everything you need to have a great day up on the mountain. Contact us to hire gear.

Skis

Ski poles

Snow jacket

Snow pants